Untangle your personal finances with our guide to the best budgeting apps for UK creative-types
Working in the creative industries has its ups and downs – and not least when it comes to our cashflow. This can make it really hard to budget effectively. The best budgeting apps make this process much less painful, taking full advantage of the 'open banking' revolution to quickly and clearly calculate our cashflow and spending. What's more, most of them are free, too…
Often in creative careers our finances will vary greatly from month-to-month. One month you can be sat at home wondering where the next gig will come from, the next you could be earning and paying a second rent in a new city.
The budgeting process usually relies on predictability – and that is something that is in short supply in our field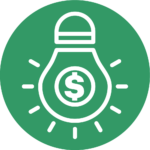 This makes budgeting exceptionally difficult for creative workers. It's a process that normally relies on predictability – and that is in short supply in our industries.
---
Does your work situation make it difficult to save money? Check out our guide: 'How to start saving (when you don't think you can)'
---
Budgeting apps can be particularly useful to creative workers because the data will usually be much more up-to-date and easier to interpret. This is helpful when your income and expenses somewhat wildly fluctuate!
A good budgeting app can…
Make it easy to track and sort your income and spending into categories

Give you a clear picture (via fancy graphs and charts) of your income, spending and cashflow

Help you compare the above across the months/years

Allow you to set budgets for defined projects/categories

Keep you up-to-date on how much you have left

Help you to identify potential savings on your bills

Help you to save or invest by siphoning off cash on a daily basis (for instance, by rounding up transactions)

'Gameify' the process of money management
Most do this by connecting to your bank (with your explicit permission) and regularly importing your transactions for analysis. Some have the power to make transfers between accounts, but most just look at the data.
If this sounds a little suspect, rest assured that all of those featured on the best budgeting apps list are regulated by the Financial Conduct Authority, which is there to ensure they behave themselves. Do not use any service which is not FCA registered.
Want to make sure you never miss a post? 
Sign up to the Creative Money newsletter!
Things to consider when picking budgeting apps…
What do you need?
Each of these apps has different strengths and weaknesses. Some are great at budgeting, some can help you save more, others have better spending analysis or clearer interfaces.
I have my preference (below) but you might need to try a few. Ultimately, the 'best budgeting app' is the one you will actually use consistently. Just keeping half-an-eye on these things will help you to improve your finances (lowering expenses, increasing savings), so know thyself! Which one will most encourage you to keep track?
Cost
Most of the apps below are free, but some have a small subscription fee or premium tier that gives you more options.
How many accounts and types of accounts do you want to manage?
Do you want a budgeting app that's a one-stop shop to plan and keep track of your assets (including pensions and the value of your home)? Or simply an app that makes it easy to monitor a basic set of current and savings accounts?
How will you use the app?
It's good to consider how you will use a budgeting app as part of a wider system.
You might be keen to set goals and boost your savings or pension. Or you might want to use the app to easily calculate your monthly income, spending and savings and track those total figures in a separate spreadsheet.
Alternatively, you may want separate apps for work expenses and personal finances (perhaps you have an accountancy platform with whizzy apps for your work stuff and just want something simple for personal finances).
Most give you various export options for data so you have even greater flexibility if you require it.
1. MoneyHub

Best for making a complex picture clear
This is Creative Money's preferred choice of budgeting app. It helps you to keep track of income, expenses and savings (like Money Dashboard et al), but you also can pull in an impressive range of investment accounts, pensions and even home equity.
For
Makes a complex web of account types easy to understand
Easy transaction tagging process (compared to other apps)
Great as a simple way to keep track of net worth
Spending and income analysis tools are really clear
Big range of accounts supported (including Vanguard)
Against
Some users say it's not so hot on the predictive/forecasting side
Has a sideline in trying to direct you to financial advisors, too (but doesn't rub it in your face)
It also comes with a small monthly fee of £1.49
2. Money Dashboard

Best for those who want an established name
Probably the biggest name among UK budgeting apps. It set the template in many ways: you connect your accounts, tag your transactions and it will start to automatically group them into categories for tracking/comparing month to month.
For
Money Dashboard has won multiple awards
You can also set multiple budgets (telling it which categories to track) and add recurring bills etc. to predict cashflow
Was the first UK app to really crack the blend of an intuitive interface and mainstream connectivity
New features are rolling out all the time and a 'predicted balance after bills' feature is useful for those with a regular income
Against
The recent redesign, Money Dashboard Neon, has not gone down well with everyone
Some say it's a little glitchy and lacks some of the utility of the classic version
3. Emma

Best for finding those sneaky fees and expenses
The makers of Emma describe their app as 'a financial advocate'. Their USP is that it analyses your transactions and tries to find ways to keep you in good shape, financially.
For
Keeps track of the sneaky stuff you often don't notice
Seeks out subscriptions you don't need
Uses notifications to help you avoid overdraft
Compatible with cryptocurrencies [this is

NOT

an endorsement of crypto – but that's another post]
Clear interface.
Against
Can't split transactions across categories on the free version
Some people don't get on with the interface's super-bold colour scheme
Pro plan is quite expensive (min. £4.90/month).
4. Yolt

Best for keeping it simple
Yolt likes to keep it simple. It offers you a place to connect and view multiple accounts and doesn't get hung up on fancy tech to make predictions or do things for you.
For
Easy to use, with intuitive auto-categorisation
Simple to set and review budgets
Stealth mode allows you to show off app without personal info
Payday tracker
Free for life with no premium mode
Against
Pay tracker only works for monthly/four-weekly
Not as clever or customisable as rival apps
Unlike the others here, there are no options for savings goals/projects
---
How did we pick?
Through a blend of personal usage/testing, user reviews and considering research conducted by other independent platforms. Creative Money is 100% independent and has no affiliation, commercial or otherwise, with any of the brands mentioned above.
---
How can we help you?
What issues are you facing? What questions do you have about managing your money in the creative industries? What would be most helpful to you?
We don't have all the answers, but maybe we can find someone that does.
We want to hear from you.