You know you should start saving but you don't. Can we change that?
Everyone knows they should be saving, but while this painfully obvious advice is wheeled-out ad nauseam, the bigger issue is HOW to start saving in the face of personal limitations, whether they're financial or mental. Here are five tips to help you get started…
Savings are a catch-22 situation for many creative workers – if your earnings are low or inconsistent, then it's more important to have the security of savings, yet harder to build that cash cushion. It's no wonder many of us feel it's impossible to start, particularly amid the current economic situation.
If you've tried and failed to save before, or are looking for a way to start, consider instead how you can create a process – a savings production line for yourself.
Lofty and unsustainable savings goals can do more harm than good. Make it your aim to simply start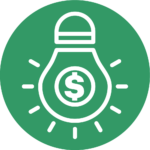 Lofty and unsustainable savings goals can do more harm than good for new savers, demotivating us before the habit is established, so try focussing on forming and rewarding the habit itself.
Make it your aim to simply start and set something aside for a period of time, if the amount varies or seems small that's still a victory. You're building a habit right now, not a war chest. Once the habit is formed, you can build from there by increasing amounts and starting to think more about where to direct the cash.
Whether's it's £1 or £100, most of us can save something – and something is always better than nothing.
Want to make sure you never miss a post? 
Sign up to the Creative Money newsletter!
1. Automate it
If you have any form of regular income, whether it's salary, recurring freelance work or even a benefit payment, set up a standing order to your savings account to go out the day it lands in your account. Start small. The aim is to set aside an amount that you won't notice is missing later in the month.
If your income is entirely variable, create your own automation by setting aside a small percentage from each payment you receive – again, start small – try 5%.
2. Round-up your spending
There multiple banking apps out there now that will enable you to round-up transactions to the nearest pound and deposit the difference in a savings account. This can be useful for freelance and creative workers because it creates a form of automation that's not dependent on having a predictable, consistent income.
---
Struggling with your cash flow as a freelancer? Take a look at our guide: 'How to manage your money on a variable income'
---
3. Use a different bank for your savings
If you have an issue with raiding your savings, then pay them into an account with a different bank or building society and don't check the balance. Just pay it in regularly and forget about it. Consider this money dead to you for the year – a gift to your future self.
Your future self might want to check the balance in 12 months, or in the New Year, or tax season. But by that point the habit should be set.
Finally, make sure any institution that you save with is UK-regulated and therefore covered by the Financial Services Compensation Scheme (FSCS) – this protects your savings (up to £85,000) if the bank fails.
4. Build in steps
This is a great idea if you're used to spending all of your income. Start by setting aside an amount you know you won't miss and then increase the standing order every month. It allows your spending to adapt slowly and in a way you will scarcely notice. Even if you start with £5 and increase £5 a month from there, after a year you could wind-up with £390 in the bank and a regular savings habit of £60 a month. At that point, even if you don't increase the standing order any further, you would be setup to save a further £720 in the following year.
5. Get the government to help you
If you're entitled to Working Tax Credits or Universal Credit, you may be eligible for a Help To Save account. If accepted, you can pay in between £1 and £50 a month and the government will give you a bonus 50p for every £1 you save.
The bonus is paid after years two and four and is based on the highest balance you managed to save in each two year period. If you pay in the maximum amount each month, you could save £2,400 over four years – and get an extra £1,200 from the government. That's a guaranteed return of 50% on offer, which is huge!
How can we help you?
What issues are you facing? What questions do you have about managing your money in the creative industries? What would be most helpful to you?
We don't have all the answers, but maybe we can find someone that does.
We want to hear from you.